Waterproof Flooring in Scottsdale, AZ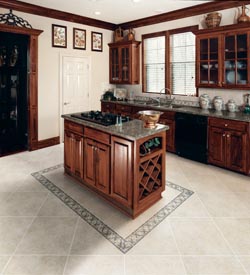 You take a lot of pride in your home and want to keep it looking as nice as it can from top to bottom. Part of your attention must be lavished on the floors regularly since they face up to the wear of many feet and the associated grit and grime tracked across them. That doesn't even consider liquids and moisture.
At some point, water or moisture is going to come into contact with your floors. If you have children or pets, then it's downright certain that you are going to be wiping up or trying to dab water from your floors. The solution is at our store in the form of waterproof flooring in Scottsdale, AZ.
A Very Versatile Flooring Choice
Different rooms in your home are more appropriate and acceptable for various types of flooring. The chances are that you do not want to have carpet in your bathroom. There's a lot of water and humidity, and as such, it isn't a spot that most people would welcome carpet.
On the other hand, how about a bedroom? That's a great place for carpet, but you might not consider putting vinyl there. No matter which rooms in your home you decide to refresh -- laundry room, entryway, or playroom -- we have the waterproof flooring options at Flooring America of Scottsdale to match from the major manufacturers in the styles and colors you want.
Durable and Efficient Flooring
You likely have a very busy daily schedule and there's not a lot of free time to devote to household chores. Not as much time as you would like anyway and it's hard to come by any extra.
Instead of taking time away from things that are important to you, like family activities, minimize the amount of time you need to spend on those chores by choosing water-resistant vinyl flooring for your home. It resists stains and spills and saves you time by being very easy to clean quickly. Less cleaning time means more fun time.
Another way to save yourself time and ensure that your waterproof floors are effective and look the way they should, with no ripples or ridges, is to let us handle all the details from the showroom to your room. At Flooring America of Scottsdale, we can help with your water-resistant flooring installation for a great new look. Our in-house installation crews are ready when you are. Contact Scottsdale Flooring America today to get started.

Contact us to learn more about our waterproof flooring options. We proudly serve customers in Scottsdale, AZ, and surrounding areas.