Furnishing the Finest Vinyl Flooring in Scottsdale, AZ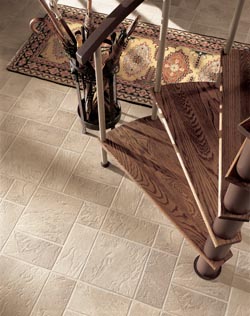 Increasingly popular among homeowners who want durable, great-looking surfaces with minimal maintenance requirements, vinyl is one of the many flooring solutions you can find at Flooring America of Scottsdale. Our selection includes a diverse set of products that you can use to reimagine your space with smooth, comfortable luxury. If you want to make the most of an upgrade to new vinyl flooring in Scottsdale, AZ, there's no better name to know for quality and customer service.
When you visit us, you'll find complete support for every part of the shopping process. Whether you're already hooked on vinyl and want to locate the best brands for a project or need to investigate all of your options before deciding on a surface, our team has the knowledge and attentive attitude to lend a helping hand.


Recreate Classic Style
One of vinyl's most valuable capabilities is its versatility. More specifically, it can replicate the look of coveted, sensitive natural materials like hardwood and stone. Frequently used in spaces where the authentic alternative wouldn't hold up without heavy maintenance, such as high-traffic hallways, it offers a similar visual appeal but more resiliency when it comes to cracking, chipping, staining, and other common issues.
How does it work? Products like our vinyl plank flooring employ lifelike, high-resolution textures to mimic the appearance and tactile detail of the desired material. The result is a sound-absorbing surface that's comfortable underfoot and perfect for homes that need an upscale aesthetic despite belonging to busy families who can't sacrifice the time it would take to manage continuous specialized upkeep.
Instead of spending your time scrubbing, you can mop up messes with minimal hassle, and still enjoy the classy look you envision for your space. Thanks to the use of cuts and installation styles that closely mirror those used for their non-synthetic counterparts, our products can combine the best in timeless surface choices and contemporary value.


Your Destination for Dedicated Assistance
With so many options available through one adaptable material, it can be difficult to decide exactly what works best for your situation. That's why we keep experts on-hand to help. If you want to know more about plank, tile, or vinyl sheet flooring, rely on our team to provide the accurate information you need to make a smart purchase.
We'll consider the details of your project, the results you desire, and the products we carry to suggest a match that's sure to deliver a successful surface upgrade. Speak with us today to get started; we can even provide you with professional vinyl flooring installation!



Contact us today to discuss your design needs with our flooring professionals. We proudly serve Scottsdale, Gainey Ranch, Pinnacle Peak, and Grayhawk, AZ, as well as the surrounding areas.