Redefine Your Favorite Spaces with Luxury Vinyl Tile in Scottsdale, AZ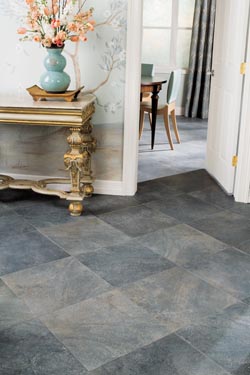 Strength and beauty go hand in hand when you begin your remodeling project at Flooring America of Scottsdale. As your source for luxury vinyl tile in Scottsdale, AZ, we make it easier to give your interior a new look and feel. Take advantage of our extensive catalog and personalized approach to service. Our showroom empowers you to improve the aesthetic appeal and value of your property.

The Advantages of Luxury Vinyl Tile Flooring
Flooring is one of the largest and most noticeable components of your interior design. Invest in a material that will last. Luxury vinyl tile flooring, also known as LVT, is a product that strikes a good balance between form and function. With its distinct composition and interior design flexibility, it is a great addition to virtually any room in your home. There are many advantages to picking this flooring, such as:
Everyday Durability: Luxury vinyl tile is solid and resilient. It is comprised of composite materials, which gives it a high degree of strength. It withstands regular foot traffic, as well as impacts of drops and bumps. Its sturdiness makes it a good choice for areas that encounter a lot of activity, such as the kitchen and living room.
Aesthetic Appeal: Broaden your interior design options. LVT floor is available in a stunning array of designs, including the appearance of hardwood and stone tiles. Now, you can add the beauty of Nature anywhere you like. This flooring successfully emulates the look and texture of popular tile materials, including ceramic, porcelain, and natural stone.
Ease of Maintenance: Luxury vinyl is built with everyday life in mind. The solid surface of this flooring is also highly resistant to water. Spills, dirt, and dust clear away quickly. With this flooring, you will save your time and energy. Since LVT is easy to clean up, it has become a popular choice amongst homeowners with children and pets.
Insulation: The construction of luxury vinyl tiles gives this flooring insulating properties. It absorbs sound, which can improve the acoustics of common areas, hallways, and also bedrooms. Also, this flooring retains and disperses heat easily. Your interior will feel comfortable all year long with LVT.

Your Partners in Flooring
Turn your remodeling ideas into a reality. We are with you at each step. Our showroom has partnered with well-known manufacturers to offer LVT floors in hundreds of different styles and designs. Your options are virtually limitless.
Don't forget: we're here to help you find the perfect flooring. We facilitate in-depth consultations and can make recommendations to ensure you find the products that meet your needs. When it's time to put your plans into motion, count on us for professional LVT floor installation. We connect you with qualified and experienced contractors to complete your re-flooring project.


Contact us to learn more about our selection of luxury vinyl tile flooring. We serve customers in Scottsdale, AZ, and McCormick Ranch, Gainey Ranch, Pinnacle Peak, Grayhawk.