Transform Your Home with Luxury Vinyl Planks in Scottsdale, AZ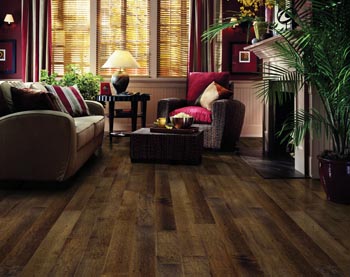 At Flooring America of Scottsdale, you'll find everything you need to make your interior remodeling project a lasting success. We are your source for luxury vinyl planks in Scottsdale, AZ. Our showroom features a stunning selection of flooring products. We serve as your interior remodeling guides, too. With our personalized approach to service, remodeling becomes a simple and rewarding experience.
Luxury Vinyl: Form and Function Together at Last
Luxury vinyl plank floor, also known as LVP, is a flooring material that is both beautiful and versatile. One of the most striking features of this flooring is that it emulates the look and texture of natural, solid hardwood. With LVP, your interior design options are now virtually limitless — you may now enjoy the beauty of Nature virtually anywhere throughout your home. Our showroom features luxury plank flooring in a variety of wood species, like oak and mahogany.
Of course, luxury vinyl is more than just a visually appealing package. There are many standout benefits to LVP floor, including:
Ease of Maintenance: We all know how tedious cleaning up around the house can be. Save your time and energy with luxury vinyl. The solid, non-porous surface of this flooring means that dirt, dust, and spills wipe away easily. Now, you can clean up messes faster and get back to doing more of what you love. LVP's water-resistance makes it a good complement to bathrooms and basements.
Strength and Resilience: LVP is built to last. It is made from composite materials, which makes this flooring hard and solid. The surface of this plank flooring is highly resistant to impacts, scratches, and scraping. Everyday wear and tear is no match for LVP, making it a great addition to common areas, hallways, and the living room.
Pleasant Acoustics: While LVP floor is well-known for its durability, it also has great sound dampening capabilities. The distinct composition of plank flooring absorbs sound, making it a good choice for common areas. The ease of maintenance and acoustic features of this flooring allow LVP to be a top choice among homeowners with children or pets.
Installation Services Available
It's time to turn your remodeling ideas into a reality. Our showroom features samples of flooring products from the leading brands. We have hundreds of products available. As always, we're here to answer your questions and make recommendations. We offer in-depth consultations that address your interior design and remodeling goals.
Strong flooring performs at its best when it is installed properly. Ensure the lasting beauty and strength of your home with our luxury vinyl plank floor installation services. We have teamed up with experienced and skilled contractors throughout the area. We'll connect you with installation experts so you may enjoy your new flooring as quickly as possible.
Contact us to learn more about our luxury vinyl plank flooring. We proudly serve customers in Scottsdale, AZ, as well as McCormick Ranch, Gainey Ranch, Pinnacle Peak, Grayhawk, and the surrounding area.