Hardwood Flooring in Scottsdale, AZ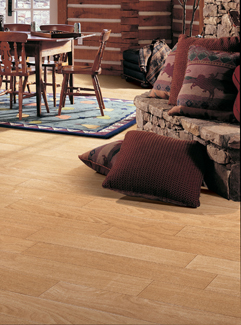 Add warmth and elegance to your home with hardwood flooring in Scottsdale, AZ. Scottsdale Flooring America provides hardwood offering natural beauty that can last for decades.
For centuries, people have used hardwood floors. Some homes that were built more than 100 years ago still have original hardwood floors. Over the decades, manufacturing technology has strengthened wood planks even more and has produced planks using unique species.
Picking the Perfect Planks
When you turn to our team, you'll find that the selection and installation processes become much easier. Our sales staff talks to you to gather information about your style preferences, how big or small your project is, and where you want to put your new floors. They then help you narrow down the options to the ones that match your needs.
Many people don't realize the amount of variety solid hardwood flooring offers. From narrow planks in light hues to thick planks in warm, rich tones, we have it all. Work with our in-house designers to see what different styles may look like in your living space. This way, you know exactly what to expect before spending a single cent.
Several of our customers already have a wood-looking tile in their kitchens or bathrooms and want real wood floors to match the rest of the home. Our hardwood floor installation experts are available to do in-home consultations so we can get as close to a perfect match as possible.
An Investment That Lasts
One of the biggest benefits of hardwood flooring is its longevity. However, the durability of your floors depends largely on the materials and installation methods used. Because of our Lifetime Installation Guarantee, you can always count on us to use superior hardwood flooring installation techniques that make the results last as long as possible.
Because hardwood lasts so long, it's also a great investment in terms of your property value. Homebuyers love real wood and are willing to pay a lot more to have it already in place before they move in.
Professional Hardwood Flooring Installation
Protect the investment you are making in your home by taking advantage of our hardwood flooring installation team. These professionals understand what it takes to get the best fit in your home, and you save time and money in the process. Our team has the right tools to get the job done properly, and the difference is clear once your design project has been completed.
With our Four or Five Star Flooring and our Confidence Plus™ warranty, it makes sense to choose our store for all your flooring needs. Our team is focused on getting the right fit for you, and that's why our installation process guarantees to extend the life and looks of your floors for years to come.

Contact us today to learn more about our hardwood flooring products. We proudly serve the communities of Scottsdale, Arizona, including McCormick Ranch, Gainey Ranch, Pinnacle Peak, and Grayhawk.